Home
Agency404 is an Atlanta based agency helping businesses deliver world class technical solutions at a fraction of the cost. Our model is very light weight and constists of top talent with Fortune 50 expertise from agencies such as IBM, Carnegie Group, Peridyne, and others. Our rates are nearly half of our competition because we don't pay for marketing or expensive executives.
We really do two things. We build systems but more importantly, we help organizations understand the technology, develop a sound strategy, and make decisions that are right for their business.
The diagram below will give you a sense of the complexity that can often exist in a modern technical architecture. You have to consider ERP, CRM, CMS, social media such as Facebook and MySpace, company web sites and promotional campaigns, call centers, etc. We can help you define a sound strategy and efficiently bring all of these systems together.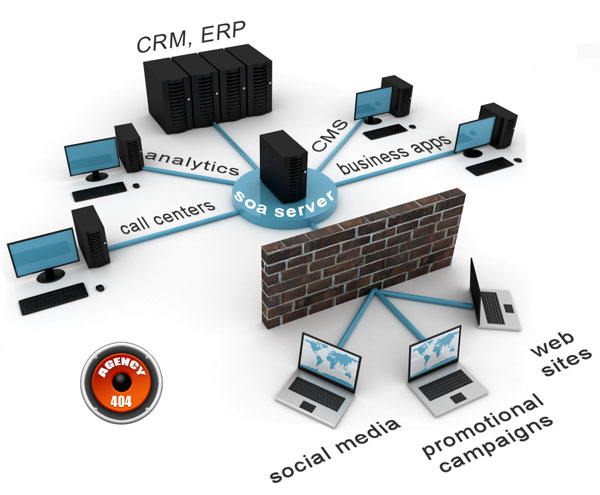 We specifically provide consulting services and products around the following...
Search Engine Optimization
Content Management and associated business processes
Web Site design and implementation
Analytics (the study of site traffic and trends)
Mobile Development for iPhone, Blackberry, Android and other devices
Massively scalable systems
Psycho-analytics
Ad sales and ad serving
Part of our strategy for cutting customer costs is focused on a flat organization with little overhead. The second part of that is our commitment to development with open source software. We have tremendous expertise in the open source systems available and have implemented countless systems based on open source. One of the keys to success here is to know which open source packages are robust and which are not. It is also important to understand the licensing models of each of the software packages to make sure terms of use are not violated. We advocate packages with the following licenses.
BSD License
MIT License
Lesser GLP
GPL (for systems not products)
Apache and Apache 2.0
We often find business using proprietary systems that are inferior in terms of functionality in addition to being expensive. Our knowledge and understanding of open source will help reduce your total cost of ownership significantly. It can also help time to market by eliminating purchasing departments and vendor selection headaches.
Please get in touch so we can find out more about your organization and how we can make a difference.