Effective Digital Marketing
Submitted by mlconnor on Mon, 11/02/2009 - 12:19
In the old days, back in the year 2000, companies and agencies had a 'build it and they will come' philosophy for the web. This strategy is quickly losing steam and there is a sense that it is important to learn something about our audience so that our content and online experiences are relevant. We need to know...
Who are our customers?
What products and services are they looking for?
What are their pain points and concerns?
Where do they live?
How much do they make?
How old are they?
Do they have children?
What is their level of education?
Armed with this information, we can begin to organize content in a way so that the customers we care about are quickly engaged and the information they need is right there. E*Trade has done a good job of this with their Investor Resource Center. They have properly identified the key groups of customers that are ready to make an investment. They give the user the opportunity to identify themselves and access very relevant content.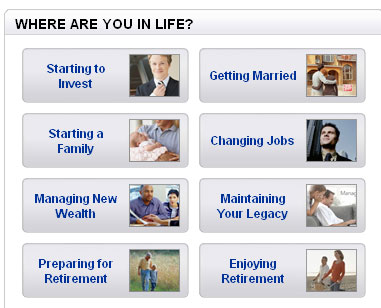 So now we know what we need to accomplish, the next question is how do we get there. A lot of agencies will charge for research work where they promise to conduct interviews and other expensive, time consuming activities. The result is fancy looking reports that really don't say a lot and simply validate the direction the agency has already chosen to take.
Identify Marketing Segments
Marketing is not a new field so let's not reinvent the wheel. Claritas has already done the heavy lifting of breaking everyone in the United States into 14 marketing groups and 66 segments. This study is based on US Census data and is called PRIZM NE. For more information about PRIZM NE visit their web site. To give you a taste of the study, here are the 14 groups they identify.
Group U1 - Urban Uptown
Group U2 - Midtown Mix
Group U3 - Urban Cores
Group S1 - Elite Suburbs
Group S2 - The Affluentials
Group S3 - Middleburbs
Group S4 - Inner Suburbs
Group C1 - 2nd City Society
Group C2 - City Centers
Group C3 - Micro-City Blues
Group T1 - Landed Gentry
Group T2 - Country Comfort
Group T3 - Middle America
Group T4 - Rustic Living
The group Urban Uptown is described as follows...
Group U1 – Urban Uptown
The five segments in Urban Uptown are home to the nation's wealthiest urban consumers. Members of this social group tend to be affluent to middle class, college educated and ethnically diverse, with above-average concentrations of Asian and Hispanic Americans. Although this group is diverse in terms of housing styles and family sizes, residents share an upscale urban perspective that's reflected in their marketplace choices. Urban Uptown consumers tend to frequent the arts, shop at exclusive retailers, drive luxury imports, travel abroad and spend heavily on computer and wireless technology.

The Urban Uptown group consists of the following segments:

Let's take a look at one of their segments.
16. Bohemian Mix – A collection of young, mobile urbanites, Bohemian Mix represents the nation's most liberal lifestyles. Its residents are a progressive mix of young singles and couples, students and professionals, Hispanics, Asians, African–Americans and whites. In their funky rowhouses and apartments, Bohemian Mixers are the early adopters who are quick to check out the latest movie, nightclub, laptop and microbrew.
There are 66 of these segments and a lot of information is provided about them. We should be able to now identify our existing customers by breaking them down into these segments. We should also have a handle on the segments we want to target and the segments that are not worth our marketing dollars. The following diagram could be used to represent our customers or our site traffic.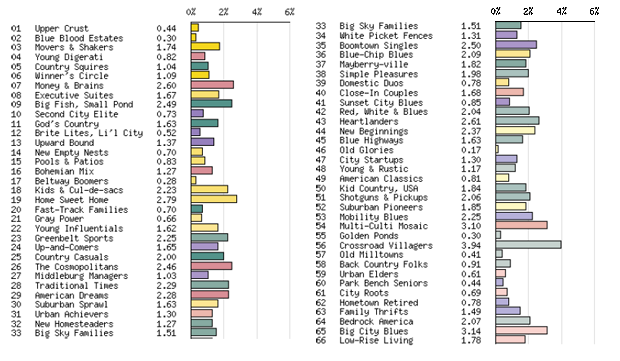 This is perhaps a little bit overwhelming but we could instead break them down into the 14 groups so it's a little bit easier to conceptualize. The most important leap is that once we can identify the segments we are interested in, we can begin targeting those segments.
We have actually used the census data to build a list of segments for each zip code. So for example, postal code 30306 would give you the following segments...
29 - American Dreams
16 - Bohemian Mix
08 - Executive Suites
07 - Money & Brains
04 - Young Digerati
We can now do some interesting things. We can...
Design our site around our targeted segments
Use the CMS system to feature specific content when users of a particular segment visit.
Make educated decisions around where to advertise and promote our sites.
Get feedback around who is visiting and what changes we need to make to get the right segments.
Interview people in segments we are missing to find out why they are not connecting with our strategy.
To expound upon the CMS point, we can actually make educated guesses about people visiting our web site and use our CMS system to provide very targeted information. For example, users coming in through Georgia in our target segments during the floods of September 2009 might see flood insurance quotes featured. This is very similar to ad serving but it is instead based around the content of the site, not the advertisements.
Conclusion
We should use established studies such as PRIZM NE to identify market segments. We can then use analytics, clickstream analysis, and paid studies to identify our existing customers as well as the customers we want to target. A proper strategy can then be crafted that properly structures content for those demographics, and uses marketing dollars in a way that effectively directs them to our site.